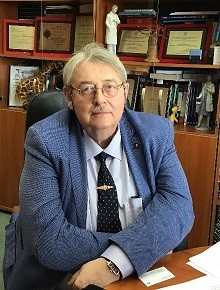 It is with huge appreciation and gratitude, we pay tribute to Professor Andrzej Lewinski, who is stepping down from his role of Joint Editor-in-chief for Thyroid Research at the end of May 2020.
Professor Lewinski is one of the founding Editors-in-chief (together with Maria Alevizaki, Barbara Jarzab, and Josef Köhrle) of Thyroid Research and has been leading editorial team of the Journal since its inception in 2008. Over the last 12 years, he has worked tirelessly to develop Thyroid Research into a world class journal, providing an excellent platform for clinicians and scientists to publish their high-quality research in the rapidly advancing field of thyroidology. He always paid special attention to ensure that the scientific standard of the Journal is maintained. It is tribute to his dedication, drive, vision and leadership that Thyroid Research is now a thriving international journal in thyroidology.
On a personal note, I am very grateful to Andrzej for his friendship, kindness and generosity over the years, which has made my role of Joint Editor-in-chief for Thyroid Research both very pleasant and immensely rewarding. I have always been able to count on his wise and pragmatic counsel over editorial issues of the Journal during the years.
As we say farewell, we thank Professor Andrzej Lewinski for his years of excellent work and dedication to Thyroid Research. We are assured that he will continue to support the Journal in more than one way.
Professor Bijay Vaidya
Joint Editor-in-chief
On behalf of the Thyroid Research Family