Insights into molecular properties of the human monocarboxylate transporter 8 by combining functional with structural information
Thyroid Research
2011
4(Suppl 1):S4
Abstract
Background
The monocarboxylate transporter 8 (MCT8) is a member of the major facilitator superfamily (MFS) and transports specificly iodothyronines. MCT8 mutations are the underlying cause of a syndrome of severe X-linked psychomotor retardation known as the Allan-Herndon-Dudley syndrome. This syndrome is characterized by abnormally high T3, low/normal T4 serum levels and slightly elevated serum TSH. To date, more than 25 pathogenic mutations in hMCT8 are known and they are valuable indicators of important regions for structural and functional MCT8 properties.
Methods
We designed a structural human MCT8 model and studied reported pathogenic missense mutations with focus on the estimation of those amino acid positions which are probably sensitive for substrate transport. Furthermore, assuming similarities between determinants of T3 binding observed in the published crystal structure of the thyroid hormone receptor beta occupied by its ligand T3 and the structural MCT8 model, we explore potential T3 binding sites in the MCT8 substrate channel cavity.
Results
We found that all known pathogenic missense mutations are located exclusively in the transmembrane helices and to a high degree at conserved residues among the MCT family. Furthermore, mutations either of or to prolines/glycines are located mainly at helices 9-12 and are expected to cause steric clashes or structural misfolding. In contrast, several other mutations are close to the potential substrate channel and affected amino acids are likely involved in the switching mechanism between different transporter conformations. Finally, three potential substrate binding sites are predicted for MCT8.
Conclusions
Naturally occurring mutations of MCT8 provide molecular insights into protein regions important for protein folding, substrate binding and the switching mechanism during substrate transport. Future studies guided by this information should help to clarify structure-function relationships at MCT8 which may bear broader relevance for other members of the MCT family. This includes decoding of the complete set of transport-sensitive residue positions and description of structural re-arrangements during transport.
Keywords
Substrate Transport
Major Facilitator Superfamily
Substrate Channel
Major Facilitator Superfamily Transporter
Side Chain Orientation
Introduction
The Allan-Herndon-Dudley syndrome is an X-linked mental retardation first described in 1944 [1]. Neonates are lacking head-moving control and they are characterized by feeding problems. Severe psychomotor retardation becomes more obvious with increasing age and some patients never attain speech or the ability to walk. An abnormal thyroid hormone constellation was found as a characteristic signature for this syndrome and guided the identification of mutations in MCT8 in affected patients [2, 3]. This constellation is a combination of high T3 levels with low/normal T4 and slightly increased TSH in human serum. To date, more than 25 pathogenic mutations have been identified including missense, nonsense, deletions, insertions, and splice site mutations [4].
MCT8 is a member of the major facilitator superfamily (MFS) of membrane transporters and is structurally characterized by twelve transmembrane helices connected by intra- and extracellular loops. The N- and C-termini are both located intracellularly [5]. MCT8 was described as a specific iodothyronine transporter [6] and known substrates for human MCT8 are thyroxine (3,3',5,5'-tetraiodo-L-thyronine, T4), T3 (3,3',5-triiodo-L-thyronine), rT3 (3,3`,5'-triiodo-L-thyronine), and 3,3'-T2 (3,3'-diiodo-L-thyronine) [6, 7].
It is assumed that substrate binding by MFS transporters triggers the transition between an "outside-open" and "inside-open" conformation, the so-called "rocker-switch" model [8, 9]. This structural movement must be linked with specific intramolecular events like re-arrangement of amino acid interactions and also with substrate trans-localization. Despite the need of more supporting and detailed information for this structural-functional "rocker-switch" model, specific substrate-protein interactions need to be considered as to be causally related to different protein conformations. Of note, this model should be also applicable for the reverse way of substrate transport (i.e. efflux cycle) from the cytosolic to the extracellular site. So far, details and principles of the process are only partially known.
Naturally occurring missense mutations point to functionally and structurally important residues within the MCT8 protein. Mutations may affect protein folding and stability or directly modify the mechanism of iodothyronine transport [10]. We here explored the spatial localization, molecular environment and the potential function of their wild-type amino acids at a three-dimensional "inside-open" MCT8 model, the only structural conformation where templates for homology models are available. We will also discuss the results of previous studies to evaluate the MCT8 homology model and to extent generally our knowledge regarding molecular mechanisms at MCTs.
Material and methods
Homology modelling of MCT8
The crystal structure of the Glycerol-3-phosphate transporter (GlpT) in an "inside-open" conformation was used as a structural template for the human MCT8 (hMCT8) homology model (PDB code 1PW4 [8]). Despite low sequence identity between this template and other members of MFS like MCT8, models based on this structural template are supported by experimental data concerning GLUT1 [11], MCT1 [12, 13], and OATP1C1 [14]. The potential dimensions of MCT8 transmembrane helices (TMHs) were defined based on helices in the template crystal structure. For consistency we confirmed these dimensions with other available MFS crystal structures (PDB codes 1PV6 and 1PV7 [15]). For further structural information of MCTs see also the internet platform "Membrane transporter systems" at http://www.membranetransport.org.
Gaps of missing residues in loop regions of the template structure were closed either manually or by the 'Loop Search' tool implemented in Sybyl 7.35 (Tripos Inc., St. Louis, MO, USA). Side chains and loops of the homology model were subjected to conjugate gradient minimization (until converging at a termination gradient of 0.05 kcal/(mol*Å)). The side chain orientations were refined during dynamic simulation (8 ns) by fixing all backbone H-bonds of TMHs. This step of model generation is extended compared to the recently published MCT8 model [7] (5 ns) to get more precise potential MCT8 side chain orientations. Finally, the model was minimized without any constraints.
We have mapped naturally occurring single side chain substitutions (figure
1
) on our MCT8 model (figures
2
and
3
). Pathogenic deletions or insertions (reviewed in [
4
]) are not considered here, since they lead to incomplete proteins or they modify the particular helix-conformation and arrangements relative to each other. Therefore, such mutations are revoking a consistent structural prediction.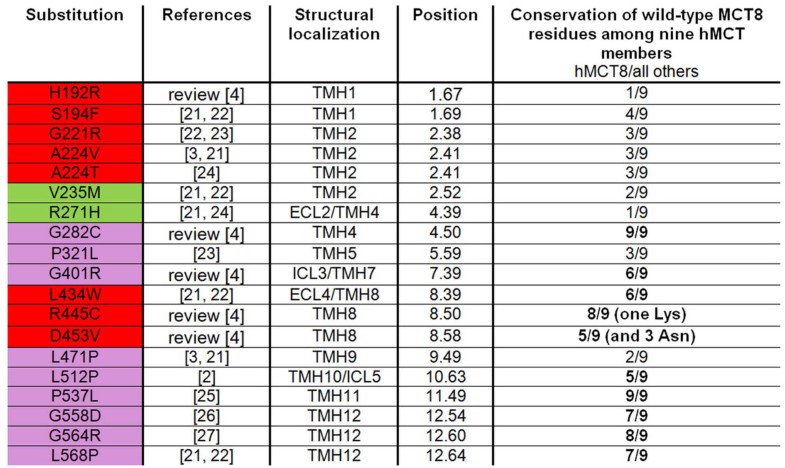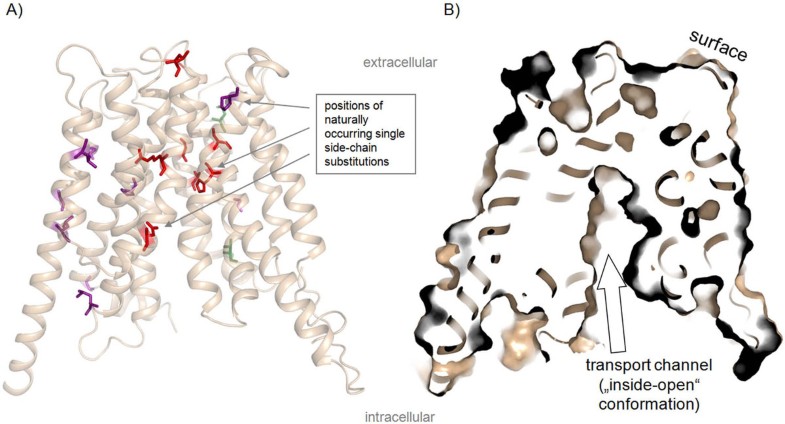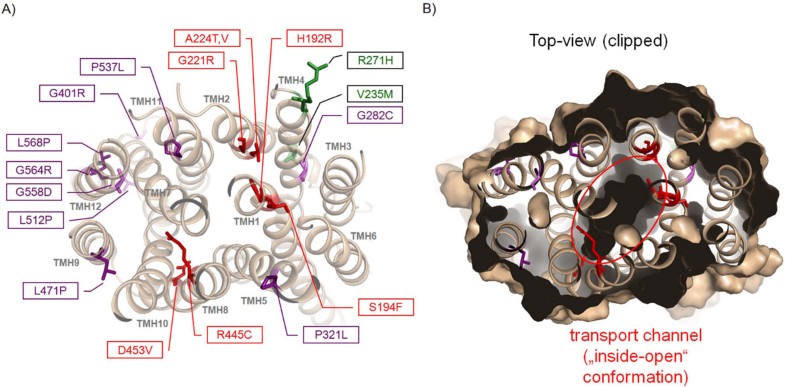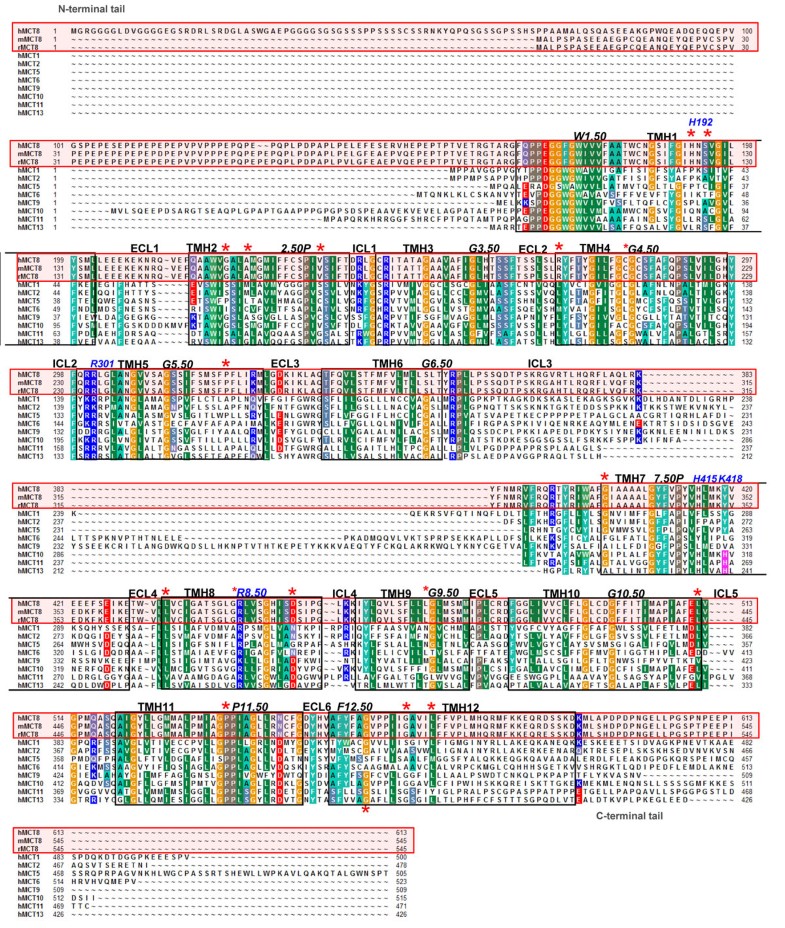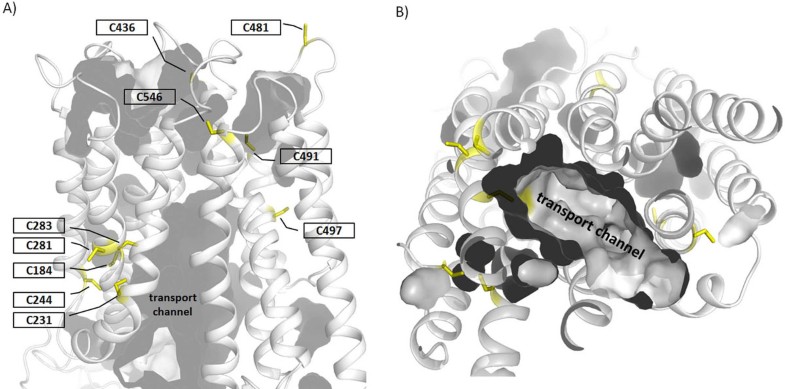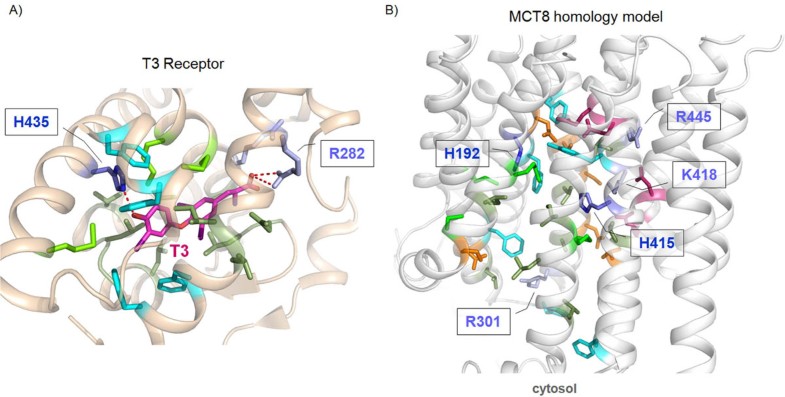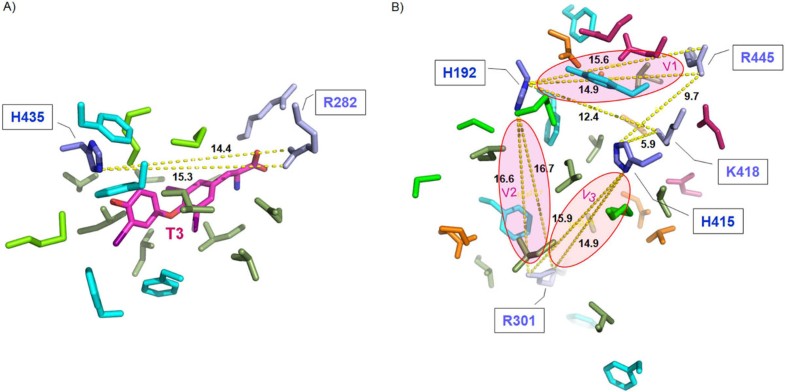 Structure images were produced using the PyMOL Molecular Graphics System, Version 1.3, Schrödinger, LLC.
Amino acid sequence alignment of human MCTs and the unification of residue numbering
Amino acid sequences of human MCT family members were aligned to analyze shared and divergent features in amino acid composition (figure 4). Details of the alignment procedure are recently described by Kinne and Kleinau et al. [7]. The alignment was used to highlight positions of pathogenic MCT8 mutations. This alignment enables comparison and analyses of residue conservation among human MCTs (figure 1).
We suggested previously a unifying numbering system for MCTs similar to family A GPCRs [7]. This position identifier scheme uses a highly conserved residue in each TMH as a common reference for all members of the MCT family. The first number is related to the particular helix, the second number after the dot determines the specific position in relation to the conserved residue. For example, the highly conserved tryptophan in TMH1 is defined as 1.50 and the highly conserved proline from TMH2 is defined as 2.50 (figure 4).
Conclusions
Naturally occurring mutations in MCT8 provide molecular insights into protein regions important for protein folding and the switching mechanism during substrate transport. This was shown here by the assignment of mutations especially at TMH9 to TMH12 leading to MCT8 misfolding. Furthermore, by highlighting specific positions of pathogenic mutations in the three-dimensional structure, we have specified a critical region for the transition between the postulated "inside-open" and "outside-open" conformations. These amino acids are located at a bottle neck of the transport channel cavity, surrounded by substrate binding-sensitive amino acids. Our MCT8 model has guided several new insights in the relationship between sequence, structure and function of this transporter. This model is in accordance with experimental data and is predictive to support the identification of functional key-player amino acids. Future studies based on this model are aimed to clarify unknown details of molecular events at MCT8 and likely at other members of the MCT family. This includes: 1. identification of the complete set of transport-sensitive residues, 2. description of structural re-arrangements, 3. identification of binding-sensitive residues, 4. details of ligand binding with molecular explanation of substrate specificity. Finally, for comprehensive understanding the relevance of oligomeric MCT8 constellations must be considered.
Declarations
Acknowledgement
This work was supported by the graduate college 1208 "Hormonal Regulation of Energy Metabolism, Body Weight and Growth" (TP1 and TP3), and by the Deutsche Forschungsgemeinschaft (KL2334/2-1).
This article has been published as part of Thyroid Research Volume 4 Supplement 1, 2011: New aspects of thyroid hormone synthesis and action. The full contents of the supplement are available online at http://www.thyroidresearchjournal.com/supplements/4/S1
Authors' Affiliations
(1)
Institut für Experimentelle Pädiatrische Endokrinologie, Charité-Universitätsmedizin, Berlin, Germany
(2)
Institut für Experimentelle Endokrinologie, Charité-Universitätsmedizin, Berlin, Germany
(3)
Leibniz-Institut für Molekulare Pharmakologie, Berlin, Germany
Copyright
© Kleinau et al; licensee BioMed Central Ltd. 2011
This article is published under license to BioMed Central Ltd. This is an open access article distributed under the terms of the Creative Commons Attribution License (http://creativecommons.org/licenses/by/2.0), which permits unrestricted use, distribution, and reproduction in any medium, provided the original work is properly cited.